39. Beyond Fornax: other relative distance determinations
In addition to the relative distances using the Tully-Fisher relation discussed above, a set of relative distance moduli based on a number of independent secondary distance indicators, including brightest cluster galaxies, Tully-Fisher and supernovae is also available (Jerjen & Tammann 1993). We adopt, without modification, their differential distance scale and tie into the Cepheid distance to the Fornax cluster, which was part of their cluster sample. The results are shown in Figure 37 which extends the velocity-distance relation out to more than 160 Mpc. No error bars are given in the published compilation but it is clear from the plot that the observed scatter is fully contained by 10% errors in distance or velocity. This sample is now sufficiently distant to average over the potentially biasing effects of large-scale flows, and yields a value of H0 = 72 (± 1)r km/sec (random), with a systematic error of 10% being associated with the distance (but not the velocity) of the Fornax cluster. Again the coincidence of H0 at Fornax with that for the far field, argues for Fornax being relatively at rest with respect to the microwave background.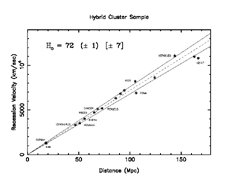 Figure 37. The velocity-distance relation for 17 clusters of galaxies with published differential distance moduli (Jerjen & Tammann 1993) scaled to the Fornax cluster. A fit to the data gives a Hubble constant of H0 = 72 ± 1 km/sec/Mpc. As in Figure 36, the solid lines mark one-sigma bounds on the observed internal scatter.