2.2 Radiation from Terrestrial OI
Terrestrial OI 1304 Å resonance radiation is quite apparent in Figure 4 toward the end of the scan in latitude, and is present to some extent throughout that scan, while terrestrial OI 1356 Å produced by electron-ion recombination is also faintly present. The altitude dependence of this latter mechanism was measured by Brune et al (13). One example of these fundamental ``engineering'' data required to reduce raw data appears in Figure 5. Experiments (e.g., 57) that are planned for above 500 km in altitude should experience no problems due to OI.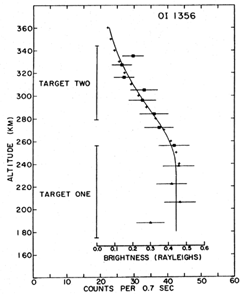 Figure 5. Oxygen 1356 Å altitude profile data from an Aries rocket experiment (13). Above 360 km altitude, oxygen emissions should not sigificantly interfere with cosmic ultraviolet background experiments.