7.1. Masses
One of the most important observational questions for these high redshift objects is ``what are their masses?''. Masses are a crucial aspect of relating the objects we see at high redshift to those at low redshift, and for comparisons with the predictions of theoretical models. However, the strongly star-forming, compact regions that dominate in what we observe in the high redshift galaxies makes it very difficult to derive the masses of the z ~ 3 objects with any confidence. For example, strong outflows are seen in such objects (see, e.g., Franx et al. 1997), and so measurements of velocity widths

from absorption, or emission lines, are likely to lead to overestimates of the gravitational masses. Yet other effects, namely dust, the small sizes of the star forming regions, etc., can lead to underestimates of the mass. It is not clear, given the limited data that we can get, even what the sense is of the overall correction, and so it has not been possible to derive reliable mass estimates from the observed velocities and length scales.
Pettini et al. (1998) and Lowenthal et al. (1998) are attempting to derive constraints on the masses, by looking at optical nebula lines, redshifted into the 2 µm region, or by using component velocity differences, but the results are still limited and very uncertain.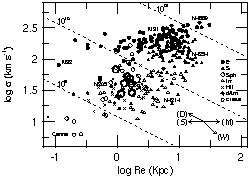 Figure 6. Half-light radius vs velocity width for nearby and low redshift galaxies, from Guzman et al. (1996). The corresponding mass scale are indicated by the dotted lines. The effects of various physical processes are indicated also in the lower right - see Guzman et al. for details. It is clear that a wealth of information can be derived for high redshift galaxies once they can be placed in this quantitative plane.
The value of deriving velocity and length scales in a way that is consistent with that done for low redshift galaxies is apparent from Figure 6. This figure is from Guzman et al. (1996), and compares intermediate-redshift, compact, star-forming galaxies with low redshift galaxies, to establish their likely mass scales. Such a comparison would be very valuable to have also for high redshift galaxies.