4.2. IR lines in Seyfert galaxies and the Big Blue Bump
With the spectrometers on board of ISO, complemented by ISOPHOT-S and the CVF of ISOCAM, it has been possible to obtain a wide variety of results on Seyfert infrared spectral properties. We display in fig. 2 the combined ISOSWS+ISOLWS spectrum of Circinus, a prototype Seyfert 2 at 4 Mpc ([Moorwood1999]). There are 30 fine structure lines in this spectrum, emitted by species with ionization energies in the 8 to 300 eV range. Note in particular the prominent high excitation lines of [OIV] and [NeV], mainly produced by the hard photons of AGNs. Detailed modeling allowed Moorwood et al. (1996) to derive from this spectrum the ionizing EUV continuum, assuming that clouds are ionization bounded. The result is a very hard ionizing continuum, with a very pronounced bump around 70 eV. This Big Blue Bump is required by accretion disk models ([Laor1990]), and can be considered the signature of a black hole. However, a similar derivation made by Sturm et al. (1999) on the Seyfert 1 NGC 4151, at 13 Mpc, concluded that in the EUV spectrum of this galaxy there is a void, rather than a bump, at 70 eV; they attribute this to absorption by neutral hydrogen placed between the narrow line region and the ionizing source.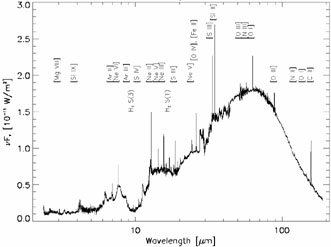 Figure 2. The combined ISOSWS+ISOLWS spectrum of the Circinus galaxy (from Moorwood 1999). Fine structure ionic lines as well as some H2 rotational lines are labeled. Note also the infrared bands in the 6-15 µm range as well as the probable silicate absorption bands.