3.3. Variable Component Speeds
Figure 9 shows the apparent angular speed for components in 3C 345 versus distance traveled along the corresponding curved trajectory (JA Zensus, AP Lobanov, KJ Leppänen, SC Unwin, and AE Wehrle, in preparation). The plot highlights the complex nature of the velocity changes that occur in this source. To the first order, the component speeds increase with separation from the core, but there is evidence for a systematic minimum speed at 1-1.5 milliarcsec from the core, which perhaps indicates transition between physically different (the inner and outer) regions of the jet, although a purely geometric explanation is not ruled out. The kinematics and luminosity changes in 3C 345 suggest that the accelerations measured are intrinsic (Qian et al 1996). In the quasar 0836+71, three regions show different apparent speeds. There appears to be a correlation between superluminal speed and jet expansion in this source, i.e. in the narrow region of the jet there is no measured motion, and where the jet opens, speeds range between 5 and 10 h-1 c, with the faster motion occurring close to the core (Krichbaum et al 1990b).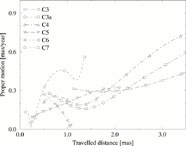 Figure 9. Proper motions in 3C 345 (from JA Zensus, AP Lobanov, KJ Leppänen, SC Unwin, and AE Wehrle, in preparation) are shown, as derived from polynomial fits in relative coordinates x and y (see Figure 8).
The quasar 4C 39.25 - first thought to be a stationary double source and later thought to be a candidate for superluminal contraction (Shaffer & Marscher 1987) - shows a component moving between two stationary features (Alberdi et al 1993b), not unlike the case of 3C 395 (Simon et al 1988). Recent observations at 22 and 43 GHz demonstrate that the apparent speed slows down as the moving feature approaches the eastern stationary feature (see Alberdi et al 1993a). There is also some evidence that there are apparent differences in the jet curvature in the 22- and 43-GHz images (Alberdi et al 1997). This has been explained in terms of repeated bending of the jet; the stationary features correspond to the Doppler-enhanced underlying jet flow where it is oriented almost along the line of sight (Marcaide et al 1994a). Alternatively, the stationary features have also been explained by standing shocks (Gómez et al 1994, Hughes et al 1989a) and interactions with the narrow line region (Taylor et al 1989); e.g. see the extended component C1 in 3C 345 (Unwin & Wehrle 1992).
Acceleration (and superluminal brightening) have also been found in 3C 454.3 (Pauliny-Toth et al 1987; IIK Pauliny-Toth, personal communication); apparent speeds increase nonlinearly with separation from the core. For separations from the core of 1-2 milliarcsec, the speed is about 8.4 h-1 c; from 2- to 5-milliarcsec separation, the speed increases continuously to about 21 h-1 c. Beyond that core distance, the speed is uncertain because the components become complex. All this is based on data between 1983 and 1990. The high-redshift blazar 0528+134 (z = 2.07) shows three moving features and at least one stationary component. One of these appears to be related to a
-ray/millimeter flare (Krichbaum et al 1995). In the quasar 1928+738, there appears to be a transition zone at about 4-6 milliarcsec from the core, similar to the case of 3C 345, which separates two jet regions with different apparent component speeds: At separations from the core smaller than 4 milliarcsec, speeds of about 4c were measured (Hummel et al 1992b), whereas between 6 and 18 milliarcsec from the core, the speeds are 6 to 7 h-1 c (Schalinski et al 1992). Finally, in 3C 273 there are also different apparent component speeds and again a trend that the speeds are higher at larger distances from the core (Zensus et al 1990, Krichbaum & Witzel 1992, Abraham et al 1996).
In the sources observed with VLBI, there is often assumed to be no difference between pattern and fluid speed. The occurrence of different component speeds, as in M 87 (see Biretta & Junor 1995), 3C 120, or Cygnus A - if not interpreted by geometric effects - might be caused by variable pattern speed (Vermeulen & Cohen 1994). Some theoretical studies predict, for example, interacting instability modes that can produce variable observed pattern speeds (Hardee et al 1995).