4.1. Deuterium - The Baryometer Of Choice
Recall that D is produced (in an astrophysically interesting abundance) ONLY during BBN. The predicted primordial abundance is sensitive to the baryon density (D/H

-1.6). Furthermore, during post-BBN evolution, as gas is cycled through stars, deuterium is ONLY destroyed, so that for the "true" abundance of D anywhere, at any time, (D/H)P
(D / H)TRUE. That's the good news. The bad news is that the spectra of HI and DI are identical, except for the wavelength/velocity shift in their spectral lines. As a result, the true D-abundance may differ from that inferred from the observations if some of the presumed DI is actually an HI interloper masquerading as DI: (D/H)TRUE
(D / H)OBS. Because of these opposing effects, the connection between (D/H)OBS and (D/H)P is not predetermined; the data themselves which must tell us how to relate the two. With this caveat in mind, it will be assumed that the value of (D/H)P identified above is a fair estimate of the primordial D abundance. Using it, the SBBN-predicted baryon abundance may be determined. The result of this comparison is shown in Figure 9 where, approximately, the overlap between the SBBN-predicted band and that from the data fix the allowed range of
.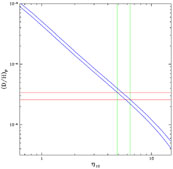 Figure 9. The diagonal band is the SBBN-predicted deuterium abundance (by number relative to hydrogen) as a function of the nucleon-to-photon ratio
10 (the width of the band accounts for the theoretical uncertainties in the SBBN prediction). The horizontal band is the ± 1

range in the adopted primordial deuterium abundance. The vertical band is, approximately, the corresponding SBBN-predicted
range.