There exists a population of large grains with a
250 Å. Illuminated by the general interstellar radiation field (ISRF), these grains, defined as "cold dust", obtain equilibrium temperatures of 15 K

T

25 K and emit strongly at wavelengths

60 µm. These grains are responsible for the near-IR/optical extinction, scattering, polarization and the emission at

60 µm.
The equilibrium temperature T for a large grain of spherical radius a is determined by balancing absorption and emission:
| | |
| --- | --- |
| | (1) |
where Cabs(a,

) is the absorption cross section for a grain with size a at wavelength

, c is the speed of light, B

(T) is the Planck function at temperature T, and u

is the energy density of the radiation field. In Figure 1 we display these "equilibrium" temperatures for graphitic and silicate grains as a function of size in environments with various UV intensities.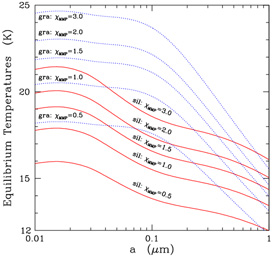 Figure 1. Equilibrium temperatures for graphite (dotted lines) and silicate grains (solid lines) in environments with various starlight intensities (in units of the Mathis, Mezger, & Panagia 1983 [MMP] solar neighbourhood ISRF). Taken from Li & Draine (2001b).
There exists a population of ultrasmall grains with a

250 Å. These grains have energy contents smaller or comparable to the energy of a single starlight photon. As a result, a single photon can heat a very small grain to a peak temperature much higher than its "steady-state" temperature and the grain then rapidly cools down to a temperature below the "steady-state" temperature before the next photon absorption event. Stochastic heating by absorption of starlight therefore results in transient "temperature spikes", during which much of the energy deposited by the starlight photon is reradiated in the IR - because of this, we call these ultrasmall grains "warm dust". 15 These grains are responsible for the far-UV extinction rise and the emission at


60 µm (including the 3.3-11.3 µm PAH emission features), dominate the photoelectric heating of interstellar gas (see Section 2.5 in Li 2004a), and provide most of the grain surface area in the diffuse ISM.
Since ultrasmall grains will not maintain "equilibrium temperatures", we need to calculate their temperature (energy) probability distribution functions in order to calculate their time-averaged IR emission spectrum. There have been a number of studies on this topic since the pioneering work of Greenberg (1968). A recent extensive investigation was carried out by Draine & Li (2001). We will not go into details in this review, but just refer those who are interested to Draine & Li (2001) and a recent review article of Li (2004a).
For illustration, we show in Figure 2 the energy probability distribution functions dP / dlnE (where dP is the probability that a grain will have vibrational energy in interval [E, E + dE]) for PAHs with radii a = 5, 10, 25, 50, 75, 100, 150, 200, 300 Å illuminated by the general ISRF. It is seen that very small grains (a

100 Å) have a very broad P(E), and the smallest grains (a < 30 Å) have an appreciable probability P0 of being found in the vibrational ground state E = 0. As the grain size increases, P(E) becomes narrower, so that it can be approximated by a delta function for a > 250 Å. 16 However, for radii as large as a = 200 Å, grains have energy distribution functions which are broad enough that the emission spectrum deviates noticeably from the emission spectrum for grains at a single "steady-state" temperature T, as shown in Figure 3. For accurate computation of IR emission spectra it is therefore important to properly calculate the energy distribution function P(E), including grain sizes which are large enough that the average thermal energy content exceeds a few eV.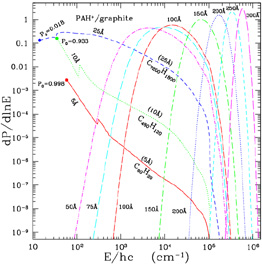 Figure 2. The energy probability distribution functions for charged carbonaceous grains (a = 5 Å [C60H20], 10Å [C480H120], 25Å [C7200H1800], 50, 75, 100, 150, 200, 250, 300Å) illuminated by the general ISRF. The discontinuity in the 5, 10, and 25Å curves is due to the change of the estimate for grain vibrational "temperature" at the 20th vibrational mode (see Draine & Li 2001). For 5, 10, and 25Å a dot indicates the first excited state, and P0 is the probability of being in the ground state. Taken from Li & Draine (2001b).
Figure 3. Infrared emission spectra for small carbonaceous grains of various sizes heated by the general ISRF, calculated using the full energy distribution function P(E) (solid lines); also shown (broken lines) are spectra computed for grains at the "equilibrium" temperature T. Transient heating effects lead to significantly more short wavelength emission for a

200 Å. Taken from Li & Draine (2001b).