1. INTRODUCING TIDAL DWARF GALAXIES
There is yet no consensual definition of a Tidal Dwarf Galaxy (TDG). Let's however stick to the acronym to define it:
Tidal refers to an object made of material that was tidally expelled from galaxies. The definition may be a bit enlarged and includes objects born in general in debris of galaxy-galaxy collisions: tidal tails of mergers, but also collisional rings and even gas stripped in the intergalactic medium by other processes than tidal forces. The key element is that the building material of TDGs used to belong to a larger parent galaxy and was thus pre-enriched. In practice late-type, rotating colliding galaxies generate more debris than early-type, dynamically hot galaxies. As a consequence, TDGs should mostly be produced by wet mergers involving spiral galaxies.

Dwarf means that the object born in tidal tails should have the size and mass of a dwarf galaxy - although this is a loose criterion given the large range of sizes/masses exhibited by dwarf galaxies (from the ultra faint ones around the Milky Way to the Magellanic type objects). This specification allows to disentangle TDGs from the Super Star Clusters and other compact stellar objects that are formed as well in colliding systems.

Galaxy implies that the system is kinematically decoupled from its parent galaxy and gravitationally bound. This increases its ability to survive external gravitational stirring or internal destructive processes such as stellar feedback. In other words, TDGs are not transient objects but correspond to genuine condensations of matter that have collapsed in-situ within collisional debris.
How does this definition of a TDG translate into observational properties?
Being recycled objects, TDGs have inherited from their parents the metal content of their interstellar medium. Thus their metallicity tells about the past chemical enrichment of their parents, and is thus not correlated with their actual mass, contrary to conventional galaxies. Made out of pre-enriched material, they should have an excess of heavy elements, provided that their parents were themselves metal rich. This implies as well that their dust content and molecular gas content, as traced by CO, is higher than in regular star-forming dwarf galaxies.

Made out of material expelled from the dark-matter poor disks of their parent galaxies, TDGs have accreted little of their dark-matter content. As a consequence, their luminous mass (stars and gas) should be close to their dynamical, total, mass, contrary to conventional dark-matter dominated galaxies (but see Section 3).
Examples of observed Tidal Dwarf Galaxies are shown in Fig. 1. On these images of colliding systems, the TDGs appear as red stains on blue ribbons, i.e. star-forming objects within gas-rich tails. The most massive of them are usually located near their tip. Several papers have exploited the rich Ultraviolet/GALEX Infrared/Spitzer databases on interacting galaxies and investigated in details how star-formation proceeds in collisional debris (e.g. [27, 25, 2]). At this stage, it is worthwhile noting that the vast majority of the Tidal Dwarf Galaxies so far securely identified are young objects, formed in mergers that occurred less than one Gyr ago. They still exhibit the umbilical cord linking them to their parents... i.e. the tails and bridges in which they were formed have not had the time to evaporate. Once evolved, TDGs should become undistinguishable from regular satellite galaxies on optical images.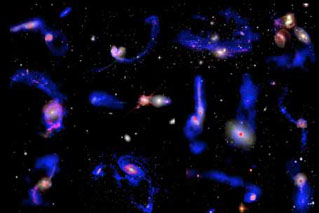 Figure 1. Sample of colliding systems exhibiting TDG candidates. The distribution of the gas is shown in blue and the star-forming regions in red.