8. FUTURE PROSPECTS
Although considerable progress has been made in the field, there is still much to be done, in order to understand the star formation histories and chemical evolution in the bulges of spirals and S0 galaxies. The first thing we have to deal with is the fact that we cannot make a clean distinction between classical, disky, and boxy/peanut bulges, as many of them coexist in the same galaxy. We need to quantify the preponderance of each component and correlate this with other properties of the galaxies, like the mass, the environment, the presence of bars, type of spiral arms, etc. We need also to understand the physical mechanism that formed each components. For example, numerical simulations have shown that bulges with structural characteristics of pseudobulges can be formed, not only secularly, but also quickly, at high redshift, via a combination of non-axisymmetric disk instabilities and tidal interactions or mergers.
Most advances, therefore, will come from the use of new techniques to derive star formation histories that allow us to distinguish different episodes of star formation. The future is promising: Ocvirk et al. (2008) and Coccato et al. (2011) show the feasibility of separating different components, not only in terms of stellar populations, but also kinematically. This is illustrated in Fig. 12, from Ocvirk et al. (2008), where the age-velocity distribution for the bulge is shown in two positions (in the center and outside the bulge dominated region of the galaxy). In this work, the authors model the observed spectrum as a sum of 40 components with different ages but, contrary to the traditional assumption that all components share the same line-of-sight velocity distribution (LOSVD), each component was allowed to have its own non-parametric (not necessarily Gaussian) LOSVD. These authors reconstructed the age-velocity distribution of two bulge regions of the Sbc galaxy NGC 4030 and were able to separate two components, one with a relatively young stellar population (∼ 2 Gyr) and σ ∼ 100 km/s and an even younger (∼ 500 Myr), and kinematically colder (σ ∼ 30 km/s). Its location (outside the bulge-dominated region of the galaxy), kinematics, and relatively young age suggest that this is a young internal disk. The null mean velocity of the structure is expected for the minor axis of a stellar disk. This study demonstrates the feasibility of separating and measuring the age and kinematics of superimposed galactic components from an integrated light spectrum. This type of analysis will be very useful in characterizing the properties of the different components in composite bulges and isolating the properties of their stellar populations.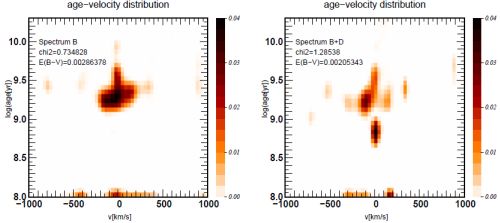 Figure 12. Age-velocity map reconstruction for the center of the bulge spectrum of NGC 4030 (left) and for the bulge spectrum 3 arcsec from the center (right panel), where a disk component appears on top of the dynamically hot component. From Ocvirk et al. (2008).
Furthermore, we have mentioned throughout the chapter several results that need to be confirmed with larger samples. Spectroscopic studies of a large sample of bulges with different characteristics are clearly needed to advance in our understanding of bulge stellar populations. Ideally this sample will be observed with an integral field unit –to be able to separate morphologically the different subcomponents – and it will contain galaxies in different environments. Indeed, the influence of environment has not been studied thoroughly. Morelli et al. (2008) analyzed a sample of bulges in the Coma cluster but they did not compare their results with bulges in other environments. Peletier et al. (1999) did not find any difference in the colors of galaxies in different environments and concluded that this parameter does not have a strong influence in shaping the star formation in bulges. Nonetheless, a more comprehensive study remains to be done. A detailed study of the properties of bulges with environment might help us to distinguish between external and internal processes for the formation of bulges.
We expect that instruments that are already operating, such as MUSE Bacon & et al. (2010), with superb spatial resolution, will help us to resolve central components, such as nuclear disks or bars. These data will allow the coupling of stellar population and kinematical properties with the morphological characteristics of the galaxies, improving our understanding of bulges in a way it has not been possible before.
Acknowledgements I would like to thank Brad Gibson, Jairo Mendez-Abreu, Pierre Ocvirk, Jesús Falcón-Barroso, Adriana de Lorenzo-Cáceres and also the anonymous referee for suggestions that improved this manuscript. I would also like to thank all the authors who have kindly provided me with figures from their publications.