Click

for previews of the images in this category.
Click

for the ASCII format of this category.
1c. Wider Interactions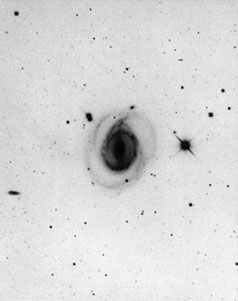 In this sub-category the main galaxy is still generally very disturbed although the companions tend to be at relatively greater distances. Some very strange companion shapes are illustrated; for example, AM 0036-432 which is presented here in a print from a 4m CTIO plate (1388A).

The photograph of AM 0623-605 is a superposition of three 2.5m Las Campanas plates (CD 1190A, 1191A and 1205A), while that of AM 0012-603 is a 4m CTIO plate (1408A).