4.3. NGC 7475
As a final example of a "bulge" that is really a disk, consider NGC 7457. This is a normal, unbarred S0 (Hubble Atlas) dominated by an exponential disk (Kormendy 1977). The "bulge" is faint, fractionally and in absolute luminosity (MB

- 18.5). Hubble Space Telescope observations by Lauer et al. (1991) show that it has a steep brightness profile, a very high central surface brightness (µ0V

12.4 V mag arcsec-2), and an unresolved core. The limits on the core parameters are extreme, but they are in the range expected for such a low luminosity (Fig. 7). This "bulge" is enormously different from a normal disk; these typically have µ0V

21 V mag arcsec-2 (Freeman 1970). The rotation curve has not been measured well enough to allow us to plot the galaxy in the V /

-

diagram. But

= 65 km s-1, making this the coldest "bulge" in Fig. 6.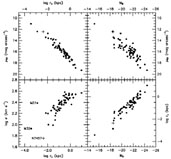 Figure 7. Four of six fundamental plane correlations between core radius rc, central surface brightness µ0V, central velocity dispersion

, and MB. Approximate seeing corrections are from Kormendy (1987). NGC 7457 (Lauer et al. 1991) is shown by plus signs.