1. INTRODUCTION
It is now thirty years since the first unambiguous identification of X-ray emission from our nearest giant spiral, M31 (Margon, Lampton & Cruddace 1974). Today we know that X-ray emission in galaxies comes from discrete sources and hot diffuse gas. Discrete sources (accreting compact objects and SuperNova Remnants) are a fossil record of the stellar population, and may be used as a probe of star formation history. Diffuse X-ray emission is the tracer of the hot gas (T > 106 K) in galaxies and clusters; in galaxies, it is an indicator of recent star formation. Disentangling truly diffuse gas from faint, unresolved sources - such as faint X-ray binaries (XRBs), cataclysmic variables, coronal emission from main-sequence and T Tauri stars - is still a major problem, despite the fact that sensitivity and spatial resolution of the X-ray detectors have improved by three orders of magnitude since those early observations.
Today, X-ray studies of nearby galaxies can be conducted on two complementary levels. We can do a statistical study of the spatial and spectral distribution of the sources: this can help us distinguish between different physical classes of X-ray emitters. And we can use the X-ray sources as a tool to probe the structure and evolution of the host galaxy.
Statistical studies of X-ray sources in the Milky Way are hampered by the large relative uncertainty in the distance of most sources (often by a factor of two) and by our very incomplete view due to the large extinction in the Galactic plane. Population studies can be conducted more easily in nearby galaxies, with more favorable viewing angles and the same relative distance for all the sources. By studying a large sample of galaxies it is also possible to quantify how the X-ray properties of a galaxy depend on its structural type and level of star-forming activity. Moreover, by quantifying the relation between observed X-ray properties and star formation history in nearby galaxies, one may predict the luminosity and color distribution of the faint galaxies detected in the Chandra Deep Field surveys (Giacconi et al. 2002), and therefore probe star formation at high redshift. (See R. Griffiths's contribution elsewhere in these Proceedings.)
In this conference paper, I have chosen the starburst galaxy M83 to illustrate some of these issues. Located at a distance of
4 Mpc, M83 is a grand-design spiral seen at low inclination. More than 100 sources are resolved in a 51 ks Chandra observation. In addition to the point sources, a true-color image (Fig. 1) shows a bright starburst nucleus and strong, soft diffuse emission along the spiral arms.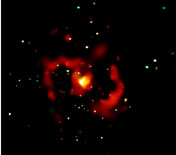 Figure 1. A true-color Chandra/ACIS image of M83 shows about 130 discrete sources and diffuse emission in the starburst nucleus and along the arms. The colors are: red = 0.3-1.0 keV; green = 1.0-2.0 keV; blue = 2.0-8.0 keV. Size of the image: 12 × 10. North is up, East is left.