5.4.3 Host Galaxies
There is good observational evidence that low-redshift BL Lacs reside in giant ellipticals as FR Is do. The host galaxy of the BL Lac object PKS 0548-322 (Fig. 12, center) has a de Vaucouleurs r1/4 law profile (Falomo et al. 1995), as do the point-source-subtracted optical profiles of many low-redshift BL Lacs (Ulrich 1989; Stickel et al. 1991, 1993). The distribution of host galaxy absolute magnitudes peaks around MV ~ -23, which is comparable to the brightest galaxies in clusters (Kristian et al. 1978). The mean host galaxy magnitude for the seven 1 Jy BL Lac objects with z < 0.2 is < MV > = -22.9 ± 0.3 (Stickel et al. 1991, 1993), in excellent agreement with the mean value for FR Is, <MV > = -23.1 ± 0.1 (derived from Smith and Heckman 1989, converting to H0 = 50 km s-1 Mpc-1). There is no useful imaging information available for the BL Lacs at higher redshifts (z

0.2), a project now underway with HST.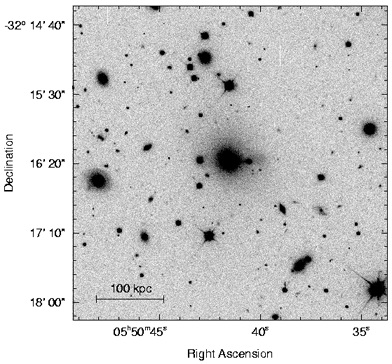 Figure 12. The central part of an NTT R-band image of the BL Lac object PKS 0548-322 (center) and its environment (Falomo et al. 1995). The host galaxy has the r1/4 profile typical of an elliptical. Numerous other galaxies visible in the field have the same redshift as the BL Lac (z = 0.069), indicating this BL Lac object lies in a rich cluster (Abell richness class 2; Falomo et al. 1995). A number of these galaxies are distorted or otherwise unusual; for example, the bright galaxy at the left edge of the image has a small jet-like structure extending to the southeast. (Copyright American Astronomical Society, reproduced with permission.)
A few of the 20 or so BL Lac host galaxies classified in the literature show evidence for disks but this is far from conclusive. The surface brightness profile of PKS 1413+135 appears to be better fitted by an exponential law than by a de Vaucouleurs law (Abraham et al. 1991), suggesting a disk host, while for OQ 530 the results are mixed (Abraham et al. 1991; Stickel et al. 1991, 1993). Stocke et al. (1992; see also Perlman et al. 1994) have suggested that PKS 1413+135, an unusually reddened BL Lac object, may lie behind a spiral galaxy rather than within it (cf. McHardy et al. 1994). Finally, while Halpern et al. (1986) reported a disk host in 1E 1415.6+2257, Romanishin (1992) found the brightness profile to be consistent with an elliptical galaxy, with the possible presence of a jet-like feature that went unnoticed by Halpern et al. About 10% of FR Is are known to have some sort of morphological peculiarity in the optical (Smith and Heckman 1989). This could complicate the surface brightness profile analysis for BL Lac host galaxies, although to our knowledge there is no FR I radio galaxy whose optical surface brightness profile is better fitted by an exponential law than a de Vaucouleurs law. It would be useful to have higher resolution imaging of both BL Lacs and FR Is to explore this further.