1. The O Stars
No luminosity classification has been attempted for stars earlier than O9. The spectral type has been determined from the ratio He I 4471: He II 4541. The types determined from this ratio appear to be consistent with the appearance of other spectral features in a sequence of effective excitation. The types obtained in this manner are in very close agreement with those determined by H.H. Plaskett. (1)
Plate 1. O5 - B0 Standards
High resolution image
If the spectral types of the O stars are determined from the single ratio of the absorption lines He I 4471: He II 4541, results accurate to a tenth of a class between O5 and O9 can be obtained on plates of the dispersion used (125 A per mm at H

). This single ratio appears to be the most useful criterion of spectral type for O5-O9 stars on spectra similar to those used. The classification of the Wolf-Rayet stars as a group will not be discussed; the number of stars in this class is very small, and individual description of each spectrum seems to be necessary.
Plate 2. Two Wolf-Rayet Stars
High resolution image
The standard O stars are listed in Table 1. Notes concerning spectral features for some of the stars are given; in the case of those of class O9, luminosity differences are also noted.
Plate 3. Main Sequence O9 - B9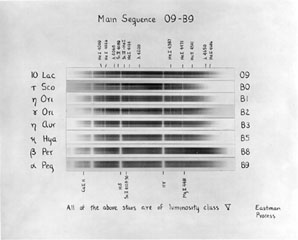 High resolution image
---
1 Pub. Dom. Ap. Obs., 1, 365, 1922. Back.