17.1. The Leading Arm Ringed Galaxy NGC 4622
The unusual nonbarred spiral NGC 4622 provides an interesting possible example of a tidally generated ring. The inner ring of this galaxy marks the boundary between two different spiral patterns: a single inner arm winding counterclockwise, and two outer arms winding clockwise (Buta et al. 1992; see Figure 87). This galaxy provides the best established case of leading spiral structure in a galaxy, but it has not been possible observationally to determine which set of arms is leading. On the basis of retrograde encounter models published by Athanassoula (1978), Thomasson et al. (1989), and Noguchi & Ishibashi (1986), it is likely that the inner, single arm has the leading sense. The galaxy is so far a unique example, and it leaves open the question of the nature of the ring. The outer arms of the galaxy are lopsided, and signal a probable interaction, possibly with a small galaxy 1.'85 to the east. Is the large inner ring of the galaxy possibly a consequence of the interaction as well? Buta et al. (1992) suggested that the ring may be a 1 / 1 resonance with the angular velocity of the companion at closest approach. The ring is off-centered and has an asymmetric azimuthal color index profile (see Figure 36).
Figure 87. I-band image of NGC 4622 after removal of the light of the bulge and background disk components, from Buta et al. (1992). The inner ring in this case separates regions of leading and trailing spiral arm structure in the disk.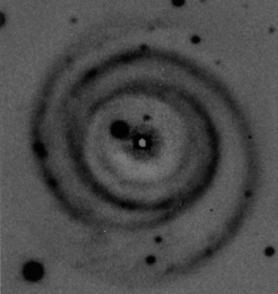 Byrd et al. (1993) carried out N-body simulations to see if an encounter could explain the observed structure of NGC 4622. Their best match is provided by a model where a low mass, small companion galaxy intrudes close to the nucleus of a larger disk galaxy. Both direct and retrograde encounters produced a similar structure, but a retrograde encounter model provided a better match and a longer-lasting leading arm. In order to work, the model required a halo-to-disk mass ratio of at least eight.