The most serious caveat remains the fact that large M/L ratios do not uniquely imply a BH. Only step 1 of the BH search - the detection of an MDO - is nearing completion. We cannot exclude the possibility that galaxies contain central clusters of stellar remnants or brown dwarf stars. However, old stellar populations have remarkably consistent mass-to-light ratios M/LV

1 to 10, with M/LV

L0.2 (Kormendy 1987a,b; Faber et al. 1987; Djorgovski et al. 1988; Bender et al. 1992, 1993). The increase of M/LV with L is due to three effects, the metallicity-luminosity correlation (Faber 1973; more luminous galaxies are more metal-rich, so stars emit less V-band light per unit mass because of stronger absorption-line blanketing), the anisotropy-luminosity correlation (Davies et al. 1983), and an age-luminosity correlation (Faber et al. 1992). Given that old stellar populations contain stars with very large and very small mass-to-light ratios, it is surprising that the scatter in M/L is so small. But the small scatter is the reason why we interpret large nuclear M/L ratios as implying MDOs. Stellar densities in NGC 3115 are not outside the range observed in galaxies that lack MDOs or in globular clusters. These have normal populations. The spectra and colors of NGC 3115 also are normal. Therefore we have no reason to expect a dramatic population gradient, and we see no evidence of one. An extreme population gradient would be required: inside 1", the dark star cluster would have to have about five times as much mass as the visible stars. Therefore the most plausible conclusion is that NGC 3115 contains a central BH of mass MBH ~ 109 M

.

To summarize: in NGC 3115, as in M31, the detection of an MDO is probably secure. But the arguments that we are detecting a BH are not rigorous.

The first galaxy with convincing evidence for an MDO was the dwarf elliptical M32; it is now the most thoroughly studied BH candidate. Like M31, it was long ago known to rotate rapidly near the center (Walker 1962). Dressler (1984) and Tonry (1984, 1987) measured its rotation curve with

*

0".5 to 0".85 seeing at the Hale telescope; they demonstrated that the velocity dispersion rises significantly toward the center. Tonry (1984, 1987) fitted his data with isotropic dynamical models; these imply that M/L increases toward the center. He concluded that M32 contains a BH of mass MBH

(3 to 10) x 106 M

.
These results were strengthened by Dressler & Richstone (1988), who obtained

*

0".5 observations of M32 with the Hale telescope. Using the techniques of Section 4.1, they showed that velocity anisotropy provides no escape from the conclusion that an MDO is present. More detailed analysis by Richstone et al. (1990) further supported the case.
Figure 10 illustrates the kinematics.

Figure 10. Kinematics of M32 compared with the dynamical models of van der Marel et al. (1994b), Qian et al. (1995), and Dehnen (1995) kindly recalculated by the above authors for

* = 0".20.
The conclusions of Tonry, Dressler, and Richstone have now been confirmed by three independent groups. They provide a significant iteration in spatial resolution over the discovery observations, and they strengthen the analysis by fitting LOSVDs. Therefore M32, with M31 and NGC 3115, is among the most secure BH candidates.
Carter & Jenkins (1993) observed M32 with the WHT, a 0".45 slit, and

* = 0".34. At this resolution, V (r) flattens out to 50 km s-1 at ~ 1". Carter & Jenkins do not use the dispersion profile to measure masses, but they note that a high central M/L does not follow from V (r) alone.
Van der Marel et al. (1994a) present additional WHT observations, including measurements of Gauss-Hermite coefficients. As in other rotating galaxies, h3 and V have opposite signs; h3

-0.07 at r

1". Coefficients h4 - h6 are nearly zero. Van der Marel and collaborators note that Tonry's (1987) isotropic models do not fit h3 (r); in fact, they have h3

0 at all radii. This demonstrates an interesting result: the LOSVDs are intrinsically asymmetric; they are not Gaussians rendered asymmetric by rotational line broadening, projection, or seeing. This is important for modelers who try to decipher the galaxy's dynamics. But it does not have a large effect on the BH search, contrary to worries expressed in van der Marel's paper. This can again be seen by correcting the Gaussian-fit rotation velocities to velocity moments appropriate for Equation 1 using Bender et al. (1994). Since h3

constant at r

1",
V

-7 km s-1 is nearly independent of radius (see also Figure 2 in Rix 1993). Thus, the main effect of the correction is again to lower the bulge M/L. This is confirmed by detailed analysis, as follows.
Van der Marel et al. (1994b) construct M32 models with two-integral distribution functions f (E, Lz), where E is total energy and Lz is the axial component of angular momentum. Without MDOs, these models fit V (r) and h3 (r) - h6 (r), but they fail to fit the central dispersion gradient. In fact, they predict that

falls toward the center at r < 1". [Physically: If stars cannot climb out of their own potential well and therefore make a cuspy profile, they must be cold; see, e.g., Binney 1980; Dehnen 1993; Tremaine et al. 1994).] Similar results are obtained with a moment equation analysis that fits V,

, and the skewness of the LOSVDs. Good fits to

(r) are obtained when an MDO of mass MBH = (1.8 ± 0.3) x 106 M

is added. These results are in good agreement with the conclusions of Tonry, Dressler, and Richstone.
Qian et al. (1995) take the moment equation models one step further by calculating their distribution functions using the contour integral method of Hunter & Qian (1993). They can then derive the complete LOSVDs and not just their skewness. For the MBH = 1.8 x 106 M

model, the comparison to V,

, and h3 - h6 shows remarkably good agreement along all slit positions measured by van der Marel et al. (1994b).
Dehnen (1995) has made further f (E, Lz) models of the van der Marel et al. (1994a) observations using a slightly different technique. He recovers f (E, 0) from
using a Richardson (1972) - Lucy (1974) algorithm. The distribution function is then multiplied by a guessed function of Lz and used to calculate V,

, and h3 - h6. These are compared to the observations, and the distribution function is iterated until it agrees with all observables. Slit width, pixel size, and seeing are taken into account. Dehnen's results are closely similar to those of van der Marel et al. (1994b). In particular, he confirms that such models do not fit the kinematics unless they contain an MDO of mass MBH

(1.6 to 2) x 106 M

. Again, the models with an MDO provide an excellent fit to h3(r) - h6 (r) along the major, minor, skew, and offset axes.
Van der Marel et al. (1994b), Qian et al. (1995), and Dehnen (1995) improve on earlier analyses in several important ways. The models are properly flattened, they fit the non-Gaussian LOSVDs, and they fit kinematic observations at a variety of slit positions, not just along the major axis. The latter point is important: as van der Marel et al. (1994b) point out, Tonry's (1984, 1987) models explain the major-axis dispersion gradient as due to rotational line broadening, but without an intrinsic dispersion gradient, they cannot be in dynamical equilibrium along the minor axis. The f (E, Lz) models solve this problem.
These models also have an important shortcoming compared to the models of Dressler & Richstone (1988). The distribution functions are restricted to be functions of two integrals; in many cases, they are required to be analytic. We can show that these models fail to fit the data without a BH, but we cannot prove that it is impossible to find a more general distribution function that succeeds without a BH. In contrast, the maximum entropy models can be forced to have the smallest possible M/L as r -> 0. When this fails - subject to shortcomings discussed in Section 4.1 - an MDO is required. Thus the distribution function and maximum entropy models are complementary: each has strengths that the other lacks. It is reassuring that they agree. But an exploration of extreme models that successfully fit V,

, and hn without the limitations of published maximum entropy models is still needed.
Finally, Figure 10 shows new observations of M32 obtained with the CFHT and SIS (Kormendy et al. 1995a). These provide a further improvement in spatial resolution: The slit width was 0".35, and the seeing

* was 0".20. At this resolution, the central rotation curve is much steeper; it peaks at V

53 ± 2 km s-1 at r

0".85. The central dispersion profile is slightly steeper;

(0)

94 ± 2 km s-1. Figure 10 compares the SIS data with the models of van der Marel et al. (1994b), Qian et al. (1995), and Dehnen (1995) as seen at the present resolution. The fit is good at large radii. But V (r) and

(r) both reach higher maximum values than the models predict. Therefore the BH case gets stronger at SIS resolution. Modeling of the SIS data is in progress.
In summary, five independent groups have observed and modeled M32. Models without MDOs consistently fail to fit the kinematics. These include maximum entropy models that were instructed to minimize the central M/L. Successful models require that MBH

2 x 106 M

. This result has survived improvements in spatial resolution of a factor of three since the MDO discovery. Given expectations based on Figure 10 and on the predictions of Dehnen (1995) and Qian et al. (1995), HST spectroscopy is feasible. Van der Marel et al. (1995) plan to make these observations. Meanwhile, the case for an MDO is already strong.
4.5 NGC 4594, The Sombrero Galaxy (MBH

5 x 108 M

)
The remaining stellar-dynamical BH cases (Sections 4.5, 4.6, 4.7) are weaker than those of M31, M32, and NGC 3115 because the modeling analyses have explored fewer degrees of freedom on M(r).
NGC 4594 is an almost edge-on Sa galaxy illustrated in the Hubble Atlas (Sandage 1961). Its bulge is as luminous as a giant elliptical (MB

-21.21 at 9.2 Mpc distance), but it rotates rapidly enough so that velocity anisotropies are small (Kormendy & Illingworth 1982). This reduces the uncertainties in the mass measurements.
Kormendy (1988d) observed NGC 4594 with the CFHT (slit width = 0".5, scale = 0".435 pixel-1, seeing

* = 0".40). The central kinematics reveal a nuclear disk: at r

5" the rotation curve has an inner peak, and the dispersion profile has a minimum (

= 181 ± 6 km s-1) that is significantly lower than the bulge dispersion (


240 km s-1). The nuclear disk is also detected photometrically (Burkhead 1986, 1991; Kormendy 1988d; Crane et al. 1993b; Emsellem et al. 1994a). Its presence guarantees that the LOSVDs are asymmetrical. But the disk is well localized and significantly brighter than the bulge. At r

10" to 15", both the photometry and the kinematics suggest that the disk is negligible; here the major-axis dispersion is equal to that along the minor axis. Therefore Kormendy subtracted the bulge spectrum obtained from the minor axis and scaled to the major-axis bulge profile. He then confined his analysis to the kinematics of the nuclear disk. This is a well-defined kinematic subpopulation that can be used in Equation 1 to measure the total mass distribution. Recently, Kormendy (1994) has shown that asymmetries in the LOSVDs due to superposition of the nuclear disk and bulge were removed by the decomposition; the Kormendy (1988d) models are an adequate fit to the residual LOSVDs.
The machinery of Section 4.1 was used to derive unprojected rotation velocity, velocity dispersion, and brightness profiles that bracket the bulge-subtracted data after projection and seeing convolution. The solutions imply that the mass-to-light ratio rises from normal values M/LV

7.8 at large radii to M/LV > 100 near the center. (All values in this section have been corrected to the distance scale of Table 1.) Kormendy & Westpfahl (1989) showed that the outer M/LV remains constant to ~ 180". So a normal old stellar population dominates the bulge over a large radius range. But an MDO is present at r < 1"; if M/LV (r) = constant for the stellar population, then MBH

5 x 108 M

.
The main shortcoming of the analysis was that velocity anisotropy was not explored. The rapid rotation and the nuclear disk make it unlikely that

r >>

tangential (Kormendy & Illingworth 1982; Jarvis & Freeman 1985). Nevertheless, anisotropic models should be constructed.
The kinematics of NGC 4594 have been confirmed by five independent groups. Jarvis & Dubath (1988) observed the galaxy with the ESO 3.6 m telescope, a 2" slit, 1".17 pixels, and seeing

*

0".51 to 0".64. Their data agree well with Kormendy's. They estimate the total mass within 3".5 of the center to be 7 x 108 M

and ``conclude that there is strong evidence that NGC 4594 contains a super-massive object, possibly a black hole or massive star cluster.'' But they calculate no M/L ratios, so they cannot tell how much of the mass is dark. In fact, comparably luminous galaxies typically have core masses > 109 M

in stars (e.g., Kormendy 1982, Table 3). In NGC 4594, the luminosity inside 3".5 is LV

6 x 108 L

(Kormendy 1988d, Figure 10), and M/LV,bulge

7.8. So Jarvis and Dubath underestimate the mass inside 3".5.
Wagner et al. (1989: ESO 2.2 m telescope, 1".87 pixels, 2" slit) were the first to examine LOSVDs. These clearly show a superposition of rapidly rotating, cold and slowly rotating, hot components. The cross-correlation peaks at the center and at ±3".6 agree well with those illustrated in Kormendy (1994). Wagner et al. (1989) derive a seeing-corrected mass of (3 ± 1.2) x 109 M

inside 3".8 radius, but like Jarvis & Dubath (1988), they do not derive M/L ratios.
The kinematics are further confirmed by Carter & Jenkins (1993: WHT, 0".34 pixels, 0".55 slit, seeing

*

0".51). They remark that rotation alone is not rapid enough to imply a large mass-to-light ratio. It is true that the central rise in M/L found by Kormendy (1988d) is largely due to the dispersion gradient. Checking anisotropy is probably more important than Kormendy suggested.
Van der Marel et al. (1994a) took additional spectra with a 1".25 slit, 0".6 pixels, and seeing

* = 0".47. They agree with previous results. The main new contribution is the measurement of LOSVDs. The maximum amplitude of h3 = -0.15 is reached at r = 6"; |h3| - |h6| then fall almost to zero at r = 10" - 20". This is in excellent agreement with the Kormendy (1988d) and Burkhead (1991) conclusion that the nuclear disk dominates near the center but is negligible at intermediate radii.
In summary, the kinematics of NGC 4594 are well confirmed. But none of the published measurements improves on the discovery resolution.
Also, there has been little progress on modeling. Emsellem et al. (1994a) model the Kormendy data using multi-Gaussian expansions of the PSF and galaxy light distributions. Again, isotropic models do not fit the dispersion profile unless there is an MDO of mass 5 x 108 M

. However, even the MDO model rotates too slowly. Part of the problem is that Emsellem and collaborators fit the composite (not bulge-subtracted) kinematics; this adds to the uncertainties because of the messy LOSVDs.
More definitive results on NGC 4594 should be available soon. Emsellem et al. (1994b) have obtained two-dimensional spectroscopy with 0".39 spatial sampling on the CFHT. Kormendy et al. (1995a) have taken CFHT SIS spectra with

* = 0".27; at this resolution, the apparent central velocity dispersion is 282 ± 8 km s-1. They are also scheduled to observe NGC 4594 with HST in 1995 February. The issue of whether NGC 4594 contains an MDO should be settled soon.
4.6 The Galaxy (MBH

2 x 106 M

)
The center of our Galaxy is enormously complicated and well studied. Excellent reviews (Genzel & Townes 1987; Morris 1993; Genzel et al. 1994) and conferences (Backer 1987; Morris 1989; Genzel & Harris 1994) discuss the physics in detail. Papers on a possible Galactic BH include Lynden-Bell & Rees (1971); Rees (1987); Phinney (1989); and de Zeeuw (1993). Here we summarize the AGN evidence and gas dynamics briefly and then concentrate on the stellar-dynamical BH search.
The radio source Sgr A* (Genzel et al. 1994, Figure 2.2) is assumed to be the Galactic center; this is not certain. Sgr A* is spectacularly tiny. Lo et al. (1985) measure a radius of

< (1.1 ± 0.1) x 10-3 arcsec = 9 AU at

= 1.3 cm wavelength. Also,



2 due to interstellar electron scattering. Strong limits require short

; at 3 mm,


0.07 x 10-3 arcsec = 0.6 AU (Rogers et al. 1994). This is only 15 times the Schwarzschild radius of the 2 x 106 M

MDO suggested by the dynamics. It is easy to be impressed by the small size. But as an AGN, Sgr A* is feeble: its radio luminosity is 1034 erg s-1 ~ 100.4 L

. The infrared and high-energy luminosity is much higher (Genzel et al. 1994), but there is no compelling need for a 106-M

BH. Mini-AGNs caused by stellar-mass engines are known (e.g., Mirabel et al. 1992). So, to find out whether the Galaxy contains a supermassive BH, we need dynamical evidence.
Genzel & Townes (1987) and Genzel et al. (1994) review the dynamics of neutral and ionized gas near the center. Velocities of 100-140 km s-1 imply masses of several x 106 M

inside 1 pc (Figure 11) it if the gas is in circular motion. This assumption is not well motivated: as discussed in Genzel et al. (1994), stellar winds from luminous young stars combine to make a wind blowing out of the central parsec; a few hundred supernovae are thought to have occurred in the central 102 pc in the past 104-105 y; some noncircular motions are seen, including an expanding bubble of hot gas (Eckart et al. 1992). It is surprising that the motions are so close to gravitational. Without confirmation from stellar dynamics, we would not dare to include the Galaxy in Table 1.
Because of optical extinction, stellar velocities are usually measured using K-band CO band heads. From the first papers (Sellgren et al. 1987; Rieke & Rieke 1988), masses of 106-107 M

at r

1 pc were deduced. McGinn et al. (1989) and Sellgren et al.(1990) measured spectra of integrated starlight in apertures of 2".7 - 20" diameter. The rotation curve rises in the inner 15" = 0.6 pc and then flattens out at V

36 km s-1. The projected dispersion rises from ~ 70 km s-1 at r > 35" to 125 km s-1 at r < 20". Interestingly, the CO band strength decreases at small radii; the true strength is consistent with zero at r < 15". The authors suggest that the atmospheres of giant stars have been modified (stripped off?) in the dense environment of the nucleus. This limits the resolution to 0.6 pc, not much better than ground-based resolutions in M31 and M32. Neglecting projection and anisotropy and assuming that rc = 0.4 pc, McGinn et al. (1989) conclude that the mass distribution is inconsistent with the light distribution: it requires MBH

2.5 x 106 M

. Sellgren et al. (1990) derive MBH

(5.5 ± 1.5) x 106 M

.
The best dynamical analyses are by Kent (1992) and by Evans & de Zeeuw (1994). Kent notes that the central K-band starlight is a flattened power law,


r-1.85. He constructs a flattened, isotropic Jeans equation model that fits the stellar and gas kinematics along the major and minor axes. This requires an MDO of mass MBH

3 x 106 M

. Evans & de Zeeuw (1994) make f (E, Lz) models for the same power-law density distribution; these fit the kinematics if MBH

2 x 106 M

.
Kinematic measurements of a number of kinds of stars confirm these results (e.g., OH/IR stars: Lindqvist et al. 1992; He I stars: Krabbe & Genzel 1993, quoted in Genzel et al. 1994). The dynamical mass distribution is compared to that derived from the infrared light distribution in Figure 11. Gas and stellar kinematics agree remarkably well. The conclusion that there is (1 to 3) x 106 M

of central dark matter even looks robust to the poorly known core radius of the stars.
Haller et al. (1995) have remeasured the kinematics with a 1".3 slit placed at several positions near Sgr A*. From He I lines in hot stars and CO band heads in cool stars, they find masses at r < 1 pc that are somewhat lower than those reviewed by Genzel et al. (1994). Haller and collaborators raise the possibility that some of the dark matter near the center may be extended in radius. Then MBH

(1 to 2) x 106 M

.
Most recently, Krabbe et al. (1995) have obtained two-dimensional K-band spectroscopy of the central 8" x 8" at FWHM = 1" resolution. From 35 individual stellar velocities (mostly based on emission lines), they derive

= 153 ± 18 km s-1 at < r > = 0.245 pc and hence MBH

3 x 106 M

. If the velocity distribution is approximately isotropic, the case for a high central mass-to-light ratio is quite strong.
Nevertheless, the Galactic center BH case is fundamentally more uncertain than those of the best candidates. The observations are sensitive to discreteness and population effects. Absorption-line measurements are not luminosity-weighted along the line of sight because the CO bands disappear in the central 0.5 pc. It is hard to be confident that a particular kinematic tracer is distributed in radius like the 2.2 µm light (which is used to determine d ln

d ln r and the stellar mass distribution). Given the peculiar (young?, rejuvenated?) stellar population, it is not clear that M/LK is constant for the stars. Also, no models have explored anisotropy. On the other hand, we can hope for better spatial resolution than in any other galaxy. The case for an massive dark object is strong enough to be taken seriously. But further work is needed.
If the Galaxy contains a BH, it is starving in a blizzard of food. This could be embarrassing (Section 7).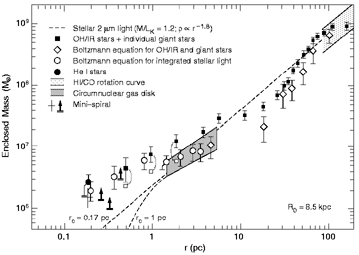 Figure 11. Galactic center mass distribution (Genzel et al. 1994). The points show dynamical masses derived from various kinematic tracer populations (see text). For two possible core radii, the dashed lines show the mass distribution in stars derived from the K-band brightness distribution assuming M/LK = 1.2.
4.7
NGC 3377 (MBH

8 x 107 M

)
NGC 3377 is a normal elliptical galaxy illustrated in the Hubble Atlas. At MB = -18.8, it rotates rapidly enough to be nearly isotropic. Its core is tiny, so small radii have large luminosity weight in projection. The axial ratio is 0.5; since no elliptical is much flatter, NGC 3377 must be nearly edge-on. Finally, the distance is only 9.9 Mpc. Therefore NGC 3377 is an excellent target for a BH search.
Kormendy et al. (1995b, see Kormendy 1992a) observed NGC 3377 with the CFHT and resolution

*

0".48. The galaxy is kinematically similar to M32: V (r) rises rapidly near the center to 100 km s-1 and then levels off;

(r)

90 km s-1 at r

2" and then rises to 158 ± 11 km s-1 at the center. The kinematics are confirmed by Bender et al. (1994). Kormendy et al. (1995b) show that isotropic kinematic models require an MDO of mass MBH

8 x 107 M

. They also fail to find anisotropic models that fit without an MDO, but the failure is not large. Therefore this is a weak MDO detection. After M32, NGC 3377 is only the second elliptical galaxy with stellar-dynamical evidence for an MDO.
One BH upper limit deserves discussion. M33 is a bulgeless Sc galaxy with a nucleus like a giant globular cluster. Kormendy & McClure (1993) observed it with the CFHT and a camera that uses a tip-tilt mirror to partly correct seeing. At resolution

* = 0".18, the limit on the core radius is rc < 0.39 pc. This is as small as the smallest cores in globular clusters. The central surface brightness is one of the highest known (Figure 2). M33 is an excellent illustration of the fact that an unusually small and dense core is no evidence for a BH unless kinematic measurements show high velocities (Section 3). The central velocity dispersion measured by Kormendy & McClure (1993) is only 21 ± 3 km s-1. The central mass-to-light ratio is M/LV

0.4. Since this is required to explain the stellar population, a conservative limit on MBH is the limit on the core mass in stars: MBH

5 x 104 M

. M33 is the first giant galaxy in which a dead quasar engine can be ruled out.
The central relaxation time, Tr

2 x 107 y, is so short that core collapse has probably occurred. Also, the center is
(B - R) = 0.44 mag bluer than the rest of the nucleus. The color gradient, the F-type spectrum (van den Bergh 1991), and the small M/L ratio imply that the nucleus contains young stars concentrated to the center. Kormendy & McClure (1993) discuss the possibility that the stellar population has been affected by dynamical processes (e.g., stellar collisions).