5. OTHER SZ DETERMINATIONS OF H0
There are now several results on H0 obtained using the SZ effect. These are summarized in Table 2, and another compilation, covering the period up to about two years ago, may be found in Rephaeli (1995a). The majority of entries in this table have been made using single-dish telescopes, rather than interferometers, and involve single cuts across the clusters rather than full maps, as in the case of the Ryle. This makes it more difficult to establish whether errors are being made with regard to the cluster shape, and (at least in the case of the Birkinshaw results) establishing proper zero levels can be difficult. There are also other Caltech measurements which have been made, but which are not yet available in print.
Table 2. Compilation of recent SZ results on H0.

---

Instrument/group
Cluster
H0 result (km s-1 Mpc-1)
Comments

---

Ryle
A2218
38+17-12
No cooling flow
A1413
47+18-12
Elliptical, cooling flow
Birkinshaw 40 m
A2218
65+25-25
A665
40+20-20
OVRO 5.5m
Coma
74+29-24
CSO/SuZie
A2163
60+40-23
(isothermal atmosphere)
78+60-40
(hybrid model)

---
Some recent measurements, which hold great promise for the future, have come from the Caltech SuZie group, working on the Caltech Submillimeter Observatory in Hawaii. They use a differencing bolometer scheme, coupled with drift scans across the source, which provides good stability and rejection of atmospheric fluctuations. The wavelengths observed are 1.2, 1.4 and 2.2 mm, which are properly spaced to make an attempt at separating the kinetic and thermal SZ effects, with preliminary results as mentioned above. The

= 2.2 mm scans across the cluster A2163, which lead to the H0 results given in Table 2, are shown in Fig. 6, taken from Holzapfel et al. (1997b). The cluster A2163 is the hottest known (Te ~ 14 keV), and Holzapfel et al. (1997b) emphasize that this makes it necessary to use the correct relativistic formulae for the frequency dependence and amplitude of the SZ effect (Rephaeli 1995b). Also, it is gradually emerging that A2163 may have significant substructure (Markevitch 1996). It may therefore not be ideal for attempting to measure H0. The two values shown for this cluster in the Table result from assuming either a standard isothermal atmosphere, which gives H0 = 60+40-23 km s-1 Mpc-1 or a hybrid polytropic/isothermal atmosphere (based on the model of Hughes et al. 1988) which yields H0 = 78+60-40 k s-1 Mpc-1. Full SZ scans taken with SuZie are now available for the cluster A1689, and H0 values from this are expected shortly.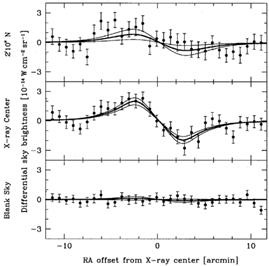 Figure 6. Coadded difference signals from the CSO/SuZie A2163 observations for (top) a region 2.2 arcminutes to the south of the cluster center; (middle) across the X-ray center and (bottom) on a region of blank sky. The effective beam switch angle is 4.6 arcminutes. The heavy and light curves are the best fit isothermal models and their one-sigma errors respectively (Taken from Holzapfel et al. 1997b).
What final accuracy on H0 can we expect from the SZ method? With maybe 25 clusters available from which to work out the effect (about the maximum number that are likely to be done in the near to medium distance future), one expects the main sources of error to average out to perhaps an 8% error in H0 (This is an estimate from Holzapfel et al. (1997b)). Sources of error which will not average out in this way, however, are the uncertainties in X-ray and radio calibration, which will probably limit the final accuracy to about 10%. Although this will be very valuable information, it is of interest to see whether there are other ways in which the CMB can be used to constrain H0, and it is to this that we now turn.