4. DETECTION OF A MICROWAVE DIMINUTION TOWARDS A HIGH-Z QUASAR PAIR
As mentioned in the introduction, the SZ effect is independent of redshift. This makes it possible to look for microwave diminutions towards distant clusters, even in those cases which there is nothing visible in X-ray or optical emission. As a step in this direction, the Ryle Telescope has been used to search for an SZ effect in front of distant quasar pairs. In one such case, the pair PC1643+4631A & B, an effect was found (Jones et al. (1997)), with a clear `dip' in the CMB between the two quasars (see Fig. 5). This is most likely due to an intervening cluster of galaxies, but no associated X-ray emission is found at this position, and optical/infra-red searches show no evidence for a cluster at a redshift z

1 (Saunders et al. (1997)). The quasars have redshifts of 3.79 and 3.83 and a separation of ~ 3 arcminutes. A possible interpretation is that they are two images of the same source. This would be a very wide separation lens by normal standards, but the total cluster mass inferred from the CMB observations is

1015 M

, which is large enough to do the lensing required. The quasar spectra are very similar, and the redshift difference could possibly be explained by a time delay between the paths (which is expected to be about 1000 years) coupled with intrinsic variation in the source (Saunders et al. (1997)). Further optical observations are underway to try to settle this point. We mention this detection in the context of a review on using the CMB to constrain H0, in order to emphasize that objects considerably farther away than are currently being used may eventually be useful in determining H0 and q0.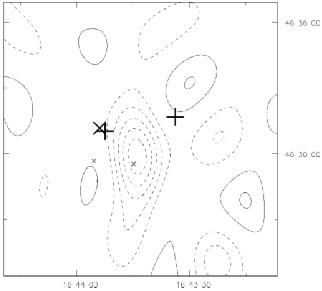 Figure 5. CMB decrement towards the z = 3.79, 3.83 quasar pair PC1643+4631A, B. Contour levels are -325 to +130µJy in steps of 65 µJy; dashed contours are negative. The `+' crosses show the positions of the quasars; the `x' crosses show the positions of radio sources that have been removed, the size of the cross being proportional to the removed flux. The redshift of the cluster responsible is not known, but from X-ray and optical/infra-red limits must be

1 (From Jones et al. (1997)).