3. THE "HOT DOG" - A STUDY OF A z = 2.8 CHAIN GALAXY IN THE HDF
Some high-redshift galaxies which fall outside the traditional Hubble tuning-fork diagram belong to new morphological groups, such as tadpoles (van den Bergh et al. 1996) and 'bow-shock' systems (Fig. 4). A class which has received much attention is that of 'chain galaxies' (Cowie, Hu & Songaila 1995). It has been widely speculated that chain galaxies are linearly-organized giant star-forming regions, although some have argued that they might be galactic disks viewed edge-on (e.g., Dalcanton & Shectman 1996). It is unlikely that most of the chain galaxies are gravitational lensing phenomena, as the incidence of potential foreground lenses is small.
The brightest 'U-drop' galaxy in the HDF is a chain galaxy, quite unlike the bulk of the Lyman-break population which are compact and isolated (Giavalisco, Steidel & Macchetto 1996). This z = 2.80 galaxy, HDF 4-555.1 (see Fig. 4 and Steidel et al. 1996a, source C4-06), has been dubbed "the Hot Dog" because of its highly-elongated morphology - it is extended over
2".5, and clearly resolved even in ground-based seeing.
Figure 4. Examples of a bow-shock interacting system (left) and a chain galaxy (right). Note the bow-shock area itself is comparatively blue, implying a young stellar population with star formation presumably triggered by the shock front, whereas the redder (older) core of the galaxy is more prominent in the near-infrared. The chain galaxy (the two-component U-drop Lyman-break galaxy called "the Hot Dog"; Steidel et al. 1996a, Bunker et al. 1998b) appears the same at all wavelengths and is blue, implying a relatively homogeneous, young population (a primæval galaxy candidate?).
Examining the spatially-resolved colors of the Hot Dog reveals that both of the prominent lobes are well fit with young stellar populations (< 100 Myr), although the southern component is bluer on average and exhibits a much smaller dispersion in colors than the northern (Fig. 5). This indicates that the star formation history of the northern component is more extended in time, or that the dust extinction along its length varies more than for the southern lobe. There is little evidence for a significant underlying older stellar population, which might be expected in a disk viewed edge-on.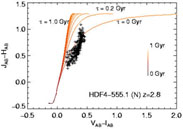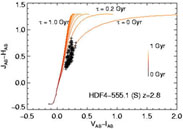 Figure 5. Spatially-resolved colours of the northern and southern components of the chain galaxy called "the Hot Dog" (HDF 4-555.1; Fig. 4). The northern and southern components exhibit subtly different colours, attributable to either different stellar populations or non-uniform dust extinction. Adopting the approach of Abraham (1997), we also plot the evolution in the (V - I) and (J - H) colours with time for a Salpeter IMF and an exponentially-decaying star formation rate, with e-folding times ranging from 0.1 Gyr to 1 Gyr. At z = 2.8, (J - H) straddles the age-sensitive 4000 Å break.
We have obtained deep, spatially-resolved optical spectroscopy with Keck/LRIS, using a long slit aligned along the major axis of the Hot Dog (Bunker et al. 1998b). Our 14 ksec spectra (

/

FWHM ~ 1000) sample the rest-frame ultraviolet (1090 - 1890 Å), a region devoid of strong forbidden emission lines. However, many of the resonance lines associated with hot stellar winds do appear, although their P Cygni profiles are less extended in velocity than those observed in some local star-bursts. The overall rest-ultraviolet continuum also indicates that the Hot Dog is an actively star-forming galaxy, albeit with internal dust extinction of E(B - V)
0.1m. The presence of high-ionization N V and He II in emission demands at least some O-stars. Ly-

emission is completely suppressed, and the absorption profile can be fit by a combination of stellar photospheric absorption and a modest interstellar hydrogen column of N(H I)
1020 cm-2 (a borderline damped system). The Hot Dog exhibits some of the strongest interstellar absorption features seen in the Lyman-break population. However, a search for velocity gradients in these lines along the major axis of this chain galaxy revealed that any systemic rotation must be small (< 100 km s-1), inconsistent with an edge-on rotating disk.
We also serendipitously discovered in our long-slit spectroscopy a compact companion galaxy, HDF 4-497.0, with Ly-

emission (W0
30 Å) at a redshift within 1000 km s-1 of the Hot Dog, and a projected separation of 35 h50-1 kpc. The flux in the Ly-

line of this companion galaxy is 3 × 10-17 erg cm-2 s-1, and the rest-ultraviolet continuum suggests a star formation rate of SFRUV
5.6 h50-2 M

yr-1. The existence of this companion closely aligned along the major axis of the chain galaxy offers support to the contention that this is an example of star formation triggered by collapse along a filament.
As we have spatially-resolved spectroscopy of an extended high-redshift source, we can also use our data as a probe of the dimensions of intervening absorbers without being restricted to the one-dimensional sightlines avalable from QSOs. Our spatially-resolved spectroscopy reveals Mg II


2796 / 2803 Å absorption by a foreground system at z = 1.239. This absorption is most likely associated with the galaxy HDF 4-516.0 which has a photometric redshift consistent with the z = 1.239 absorption lines, and is at a projected distance of 2 arcsec from the Hot Dog. The Mg II absorption is only pronounced in the northern component of the Hot Dog, and the absence of strong absorption in the southern component enables us to constrain the physical size of the Lyman limit system (the optically-thick halo) of this galaxy to be r < 27 h50-1 kpc.