2.1. Phenomenology of an Extended Radio Source
The original phenomenological model was proposed by Rees (1971), Scheuer (1974). A pictorial scheme is illustrated in Figure 2. Twin opposite jets are produced and collimated in the innermost cores of AGNs (sizes
10-3 pc) by some powerful engine that most likely derives its energy from accretion onto a gravitational well and thrusts continuously supersonic and/or super-Alfvènic magnetized plasma along the angular momentum axis. The twin jets plough their way through the ambient intergalactic gas, transferring energy and momentum far away from the parent core. Jets are structurally affected by the interaction with the external medium originating shocks, filaments, and wiggles. Local electron acceleration to relativistic energies supports synchrotron emission. The "head" where the jet pushes against the external medium is a turbulent working surface producing a bow shock and a cocoon around the entire source.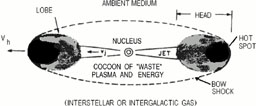 Figure 2. Schematic diagram of a strong radio source.
The physical modeling of this scenario is difficult because of the high nonlinearities involved, including electrodynamic and general relativistic effects. Various building blocks of the overall model have been attacked. In particular, the following sections of this review address the main physical questions related with jets: (a) origin, acceleration, and collimation, (b) propagation and confinement, (c) termination, and (d) radiation.
When describing the structure and dynamics of outflows, a fluid approximation is used, assuming that magnetic fields provide a collective behavior even though the particle collisional mean-free-path

coll is very large (

gyr << D <<

coll, where

gyr is the gyration radius and D the region size). It is not clear what the field-filling factor is in the various regions and how important the turbulent versus the ordered magnetic component is. However, they are both essential for radiation and dynamics: In particular, fluid models must use magnetohydrodynamics.