3. SECULAR EVOLUTION OF "UNBARRED" GALAXIES
How general are the results of Section 2? There are four reasons why we suggest that secular evolution and pseudobulge building are important in more than the ~ 1/3 of all disk galaxies that look barred at optical wavelengths: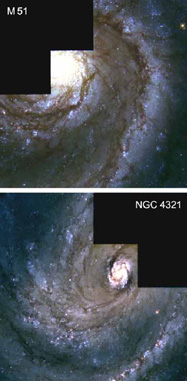 Figure 4. Nuclear star formation in the unbarred galaxies M 51 and NGC 4321 (M 100). Dust lanes on the trailing side of the global spiral arms reach in to small radii. As in barred spirals, they are are indicative of gas inflow. Both galaxies have concentrations of star formation near their centers that resemble those in Figure 3. These images are from the Hubble Space Telescope and are reproduced here courtesy of STScI.