Click

for previews of the images in this category.
Click

for the ASCII format of this category.
CATEGORY 20:
DWARF GALAXIES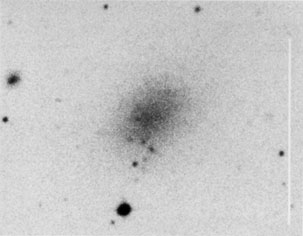 The main criterion for this Category is low surface brightness. The first page shows a low-surface-brightness dwarf with considerable resolution, AM 0148-444. Following this is a page of low surface brightness objects with little or no resolution. The first two objects, AM 0458-330 and AM 0347-370 could conceivably be star clusters. The succeeding pages show irregular objects with varying degrees of resolution, in order of generally increasing surface brightness. The object on page 20.8, AM 1346-354, is of fairly high surface brightness but is a good example of the patchy, loose structure which is also characteristic of dwarf galaxies.