6.2 A basic observational diagram
Measurements are made of magnitudes and redshifts; the number of galaxies per magnitude and redshift interval is counted. The three-dimensional version of the diagram is shown in Fig. 31a. The bias towards certain redshift-magnitude combinations is clearly visible. A two-dimensional projection is shown in Fig. 31b. Various computed curves are inserted in the diagram; their parameters are given in Table 1.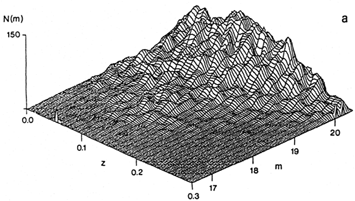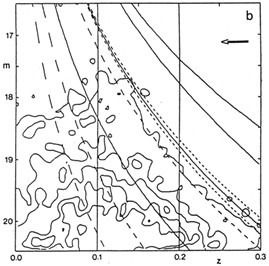 Figure 31. Basic observational diagram: m, z, N (m, z) (Seitter et al. 1988).
Data from ESO/SRC field No. 411. Going along the direction of the arrow (upper right of Fig. 31 b), groups of two or three curves are reached in the order given in Table 1. Within each group one parameter (given in bold face in Table 1) is varied; all parameters are listed. Isopleths are drawn at levels N = 50, 100, 200, 400, 800 per intervals of 0.5 magnitudes and 0.03 z-values.
The two vertical lines are the projections of curves following the N (m)-'landscape'. They correspond to observational luminosity functions before normalization.
H0 is given in km s-1 Mpc-1.
Curve
H0
q0
M
K
solid
solid
100
100
0.5
0.5
0
0
-22
-22
2.0 z
4.0 z
solid
solid
100
50
0.5
0.5
0
0
-21
-21
4.14 z - 0.44 z2
4.14 z - 0.44 z2
dotted
dotted
100
100
0.1
1.0
0
0
-21
-21
4.14 z - 0.44 z2
4.14 z - 0.44 z2
dashed
dashed
dashed
75
75
75
0.5
0.5
0.5
0
0
0
-21.5
-19.5
-18.5
4.14 z - 0.44 z2
4.14 z - 0.44 z2
4.14 z - 0.44 z2