2.1. Main Sequence Turnoffs (MSTOs)
If we can obtain deep enough exposures of the resolved stellar populations in nearby galaxies we can obtain the unambiguous age information that comes from the luminosity of MSTOs. MSTOs can clearly distinguish between bursting star formation and quiescent star formation, (e.g. Hurley-Keller et al. 1998). The age resolution that is possible does vary, becoming coarser going back in time. Our ability to disentangle the variations in sfr from MSTOs also depends upon the the intensity of the past variations and how long ago they occured. For ages less than about 1.5 Gyr it is possible to have detailed resolution on the 10-100 Myr time scales. As can be seen in Figure 1, the ages begin to crowd together for older populations. Beyond about 8 Gyr ago the age resolution is on the scale of roughly a Gyr. This of course means that a very short high intensity burst of star formation in this period will be indistinguishable from a lower sfr but longer lasting epoch of star formation. As will be described in the following sections, however, there are other indicators in a CMD which help to narrow down the range of possible SFHs.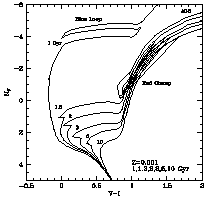 Figure 1. Isochrones for a single metallicity (Z = 0.001) and a range of ages (from Bertelli et al. 1992), marked in Gyr, at the MSTOs. Isochrones were designed for single age globular cluster populations and are best avoided in the interpretation of composite populations, which can best be modeled using Monte-Carlo techniques (e.g. Tolstoy 1998).