5. DEMOGRAPHICS OF EMISSION-LINE GALAXIES
Although the specific numbers cited differ from one investigator to another, all the older surveys discussed in Section 3 agree that LINERs are extremely common in nearby galaxies. They also concur that the detection rate of LINERs varies strongly with Hubble type, with early-type systems being the preferred hosts; this result essentially confirms what was already found by Burbidge & Burbidge (1962), who noted that most of the galaxies showing enhanced [N II] / H

ratios tended to be of early type.
Not surprisingly, the Palomar survey likewise finds the same trends. The important distinction, however, is that the results from the present survey are quantitatively much more reliable, for reasons already discussed in Section 4, both in a statistical sense as well as on an object-by-object basis. The detection rates of the various classes of emission-line nuclei defined in Section 2 are given in Table 2 and graphically illustrated in Figure 4a. The conclusions that can be drawn are the following.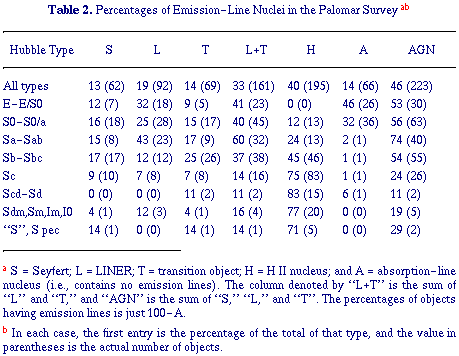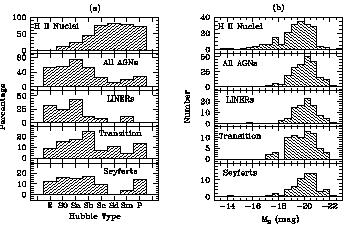 Figure 4. (a) Percentage of galaxies with the various classes of emission-line nuclei detected as a function of Hubble type. (b) Distribution of the classes of emission-line nuclei as a function of the absolute B magnitude of the host galaxy.
Theoretical studies (e.g., Heller & Shlosman 1994) suggest that large-scale stellar bars can be highly effective in delivering gas to the central few hundred parsecs of a spiral galaxy, which may then lead to rapid star formation. Further instabilities may result in additional inflow to smaller physical scales relevant for AGNs. Thus, provided that a reservoir of gas exists, the presence of a bar might be expected to influence the fueling rate, and hence the activity level. Being sufficiently large and unbiased with respect to bar type, the Palomar survey can be used to examine this issue. Ho, Filippenko, & Sargent (1996a, e) find that the presence of a bar does indeed enhance both the probability and rate of the formation of massive stars in galaxy nuclei, but only for spirals with types earlier than Sbc. By contrast, AGNs seem to be altogether unaffected.