D. NGC 4651 and Dwarf Companion
In Fig. 5 some of the essential structural features of the spiral galaxy NGC 4651 are depicted. The drawing shows in particular an extremely faint spur with a luminous blob at its end. While the spiral itself has an apparent photographic magnitude mp = + 11.8 the magnitude of the blob may be +20 or fainter. This means that the blob is a dwarf galaxy of the absolute magnitude -10 or fainter (on the old distance scale) and therefore similar to one of the many dwarf stellar systems of very low surface brightness which have been discovered in our immediate extragalactic neighborhood during the past ten years. No values for Vs are available at the present time.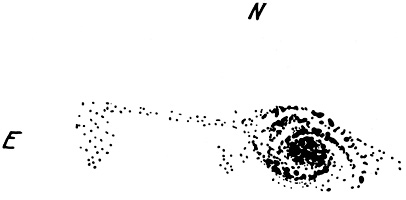 Figure 5. Drawing of some of the structural features of NGC 4651 and of its faint companion as they can be recognized on good photographs taken with the 200-inch telescope. Coordinates, R.A. 12h 41m 21s, Decl. +16° 41' 40" (1950).