Click

for previews of the images in this category.
Click

for the ASCII format of this category.
CATEGORY 23:
CLOSE PAIRS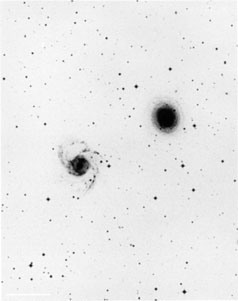 Members of this Category are very common in the Catalogue but we give only a small number of examples. Objects fall into the Category if the two galaxies are either relatively close for their size, with no sign of interaction, or if the galaxies are disturbed but so widely separated that it is not obvious that they are mutually responsible for the perturbation. Undoubtedly some of the latter are in fact interacting, but it would take more detailed statistical and morphological studies to determine that fraction.

On page 23.3 the object AM 2011-705 has been shown earlier under Category 1: Galaxies with Interacting Companions. It is seen here that it is a member of a wide double, the other member of which is probably also an interacting double. On page 24.5 one of the components of AM 0548-330 has a very faint ring around it, while on page 24.6 one of the components of AM 2013-470 has a very bright ring around it. The last object, AM 1210-341, could also be classified as a galaxy with an apparent companion but it is not clear to which spiral the companion belongs.