3.2. The dwarf regime
The space density of dwarf galaxies remains elusive. Figs. 1 & 2 shows that the MGC can only sample with credibility to MB
- 16 mag at which point both limiting statistics and the high and low surface brightness selection limits bite (see Driver et al. 2004). Fig. 6 illustrates this by showing the MGC galaxies on an absolute magnitude versus redshift plot. The data are of course bounded by the B = 20 mag limit which highlights the rapidly diminishing volume observed for low luminosity systems. One way to overcome this is to simply conduct ever deeper redshift surveys (as indicated on the figure). However this has a diminishing return as the number of galaxies one must observe to find one low luminosity system becomes unreasonable. One possible way forward is to use photometric redshifts to pre-select low-z candidates and then follow-up only these systems. However the accuracy of photometric redshifts at low z is poor (although improved by near-IR colours, see Bolzonella, Miralles & Pelló 2000 for example). To overcome the surface brightness selection limits (both high and low) the source data must be improved to probe to very high resolution (FWHM < 0.5") and very deep isophotes (µB > > 26 mag arcsec-2) over wide areas (30 + sq deg). No such survey exists but facilities such as SUBARU/SUPrime and Magellan/IMACS just about have the capability to achieve such a survey. The alternative method is to observe the very local galaxy population (i.e., the Local Sphere of Influence, defined as that within 10 Mpc) and obtain direct distance measurements rather than redshifts.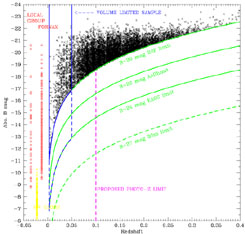 Figure 6. The difficulty of quantifying the faint-end of the luminosity function is highlighted in an M v z plot such as this one. The data points are from the MGC which is limited at B = 20 mag. The yellow box marks its boundary and it barely contains any volume for very low luminosity systems. One possible way forward is to simply push progressively deeper with the upcoming multiplex spectrographs (e.g., AA

on the Anglo Australian Telescope or GMOS/KAOS on Gemini). The main problem with this approach is the sheer numbers of objects. To circumvent this one can envisage implementing a photometric redshift cut first to pre-select candidate low-z objects. The left side indicates the distribution of galaxies from the local group, Fornax and the Milky Way globular cluster distribution as indicated.