Various models have been proposed for the origin of truncations (for a discussion see van der Kruit 2007). Truncations could be the current extent of the disks while they are growing from the inside out from accretion of external material. This predicts larger age gradients across disks than are observed (de Jong 1996). Another possibility is that star formation is inhibited when the gas surface (or space?) density falls below a certain threshold for local stability (Fall & Efstathiou 1980, Kennicutt 1989, Schaye 2004). The Goldreich-Lynden-Bell criterion for stability of gas layers gives a poor prediction for the truncation radii (van der Kruit & Searle 1982a). Another problem for teh threshold hypothesis is that the rotation curves of some galaxies, e.g. NGC 5907 and NGC 4013 (Casertano 1983, Bottema 1996), show features near the truncations that indicate that the mass distributions are also truncated. Schaye predicts an anti-correlation between Rmax/h and h, which is not observed. Models have been proposed (e.g. Florido et al. 2006), in which a magnetic force breaks down as a result of star formation so that stars escape. The evidence for sufficiently strong magnetic fields needs strengthening.
Obviously, the truncation corresponds to the maximum in the current specific angular momentum distribution of the disk, which would correspond to that in the protogalaxy (van der Kruit 1987) if the collapse occurs with detailed conservation of specific angular momentum. As noted above, if this starts out as a Mestel (1963) sphere (i.e. uniform density and angular rotation) in the force field of a dark halo with a flat rotation curve, a roughly exponential disk results. This disk has then a truncation at about 4.5 scalelengths, so this hypothesis provides at the same time an explanation for the exponential nature of disk as well as for the occurence of the truncations. This requires the absence of substantial redistribution of angular momentum takes place. Bars may play an important role in this, as suggested by Debattista et al. (2007) and Erwin et al. (2007). In fact a range of possible agents in addition to bars, such as density waves, heating and stripping of stars by bombardment of dark matter subhalos, has been invoked (de Jong et al. 2007).
Kregel & van der Kruit (2004) derive correlations of the ratio of the truncation radius Rmax and the disk scalelengths h with h itself and with the face-on central surface brightness µo,fo (fig. 7). Rmax / h does not depend strongly on h, but is somewhat less than the 4.5 predicted from the collapse from a simple Mestel-sphere. There is some correlation between Rmax / h and µo, fo, indicating approximate constant disk surface density at the truncations, as possibly expected in the star-formation theshold model. But this model predicts an anti-correlation between Rmax / h and h (Schaye 2004), which is not observed. The maximum angular momentum hypothesis predicts that Rmax / h should not depend on h or µo, fo and such a model therefore requires some redistribution of angular momentum or somewhat different initial conditions.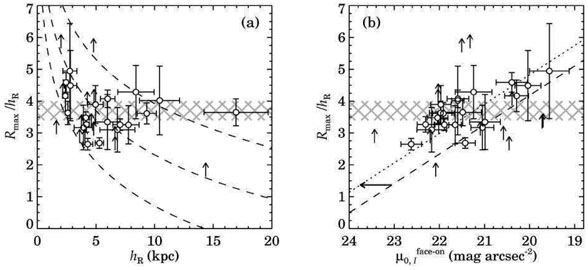 Figure 7. Correlations of Rmax / h with scalelength h and face-on central surface brightness µofo for a sample of edge-on galaxies. The cross-hatched regions show the prediction from a collapse model as in van der Kruit (1987) and Dalcanton et al. (1997); the dotted and dashed lines show predictions from the star formation threshold model of Schaye (2004) for three different values of the disk mass (from Kregel & van der Kruit 2004, see there for details)
Due to line-of-sight integration, truncations will be more difficult to detect in face-on galaxies. The expected surface brightness at 4 scalelengths is about 26 B-mag arcsec-2 or close to sky. In face-on galaxies like NGC 628 (Shostak & van der Kruit 1984, van der Kruit 1988) an isophote map shows that the outer contours have a much smaller spacing than the inner ones. The usual analysis uses an inclination and major axis determined from kinematics (if available, otherwise this is estimated from the average shape of isophotes) and then determines an azimuthally averaged radial surface brightness profile. But this will smooth out any truncation if its radius is not exactly constant with azimuthal angle. The effects are nicely illustrated in the study of NGC 5923 (Pohlen et al. 2002, their fig. 9), which has isophotes in polar coordinates. The irregular outline shows that some smoothing out will occur contrary to observations in edge-on systems.
Pohlen & Trujillo (2006) studied a sample of moderately inclined systems through ellipse-fitting of isophotes in SDSS data. They distinguish three types of profiles: Type I: no break; Type II: downbending break; Type III: upbending break. Pohlen et al. (2007) have reported that the same types profiles occur among edge-on systems; however, of their 11 systems there were only one for each of the types I and III.
Various correlations have been reviewed in van der Kruit (2009). In general, the edge-on and face-on samples agree in the distribution of Rmax / h; however the fits in moderately inclined systems result in small values of the scalelength compared to the edge-on sample. S. Peters, R. S. de Jong and I have re-analysed the Pohlen et al. data using two approaches: (1) mimick an edge-on view by collapsing the data onto the major axis and (2) calculate a radial profile using equivalent profiles. The luminosity profiles from ellipse fitting (Pohlen et al.) and that using equivalent profiles agree well, in spite of the difference that the first assumes a position for the center and the method with equivalent profiles does not. Often the `major-axis-collapse' method shows in Types I and II truncations when seen `edge-on'. So, there are truncations in the stellar disks but less symmetric than one might expect. Finally, Type III galaxies do not show 'edge-on truncations', but invariably evidence for interaction or other disturbances of the outer parts. A prime example of a Type III profile is NGC 3310, which is a well-known case of a disturbed, probably merging galaxy (van der Kruit 1976, Kregel & Sancisi 2001).
There is a good correlation between Rmax and the rotation velocity (van der Kruit 2008). On average a galaxy like our own would have an Rmax of 15 - 25 kpc (and a scalelength of 4 - 5 kpc). Now look at NGC 300, which has no truncation even at 10 scalelengths (Bland-Hawthorn et al. 2005), so that Rmax > 14.4 kpc. In spite of that it is not outside the distribution observed in edge-on systems between Rmax and Vrot (NGC 300 has ~ 105 km/s and this would give an Rmax of 8 - 15 kpc and an h of 2 - 4 kpc ). So it has a unusually small h for its Vrot; not an unusual Rmax for its rotation! At least some of the Type I galaxies could have disks with normal truncation radii, but large Rmax / h and small h so that the truncations occur at much lower surface brightness.
I note, but cannot discuss in detail, that truncations in stellar disks and warps of HI layers are often associated, and refer to my discussion in van der Kruit (2007).
Acknowledgements Ken Freeman is an expert in many area's of astronomy, but he is in particular known for his research in that of disks of spiral galaxies, and I feel fortunate to have been able to work with him on projects related to that. Many congratulations, Ken, and thanks for all the years of friendship and stimulating collaboration.