Click

for previews of the images in this category.
Click

for the ASCII format of this category.
2b. E + S Interaction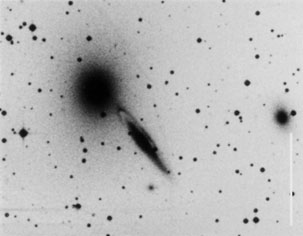 In this sub-category an E-like galaxy is interacting with another galaxy which is classifiable as a disk or spiral galaxy. The sub-category contains some very disrupted pairs shown in the middle of the section, and spirals with long, open arms at the end. In AM 0228-342 there is a diffuse faint filament on the side of the north-east galaxy which accounts for its interacting classification. This object is placed in Category 8 as well because of its many apparent companions. The galaxies in AM 2254-364 are classified as interacting because of the peculiar absorption on the edge of the south-west member which is presumably due to the influence of the large E galaxy. Because of this peculiar absorption this object is also used as an illustration in Category 14. Object AM 2225-250 is the same as No. 93 in the Atlas of Peculiar Galaxies (Arp 1966).