Click

for previews of the images in this category.
Click

for the ASCII format of this category.
3b. Interacting Triples which are Aligned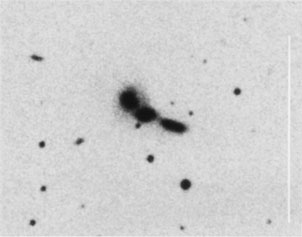 Surprisingly, a large number of interacting triple systems show a tendency towards alignment, the statistical and physical significance of which has yet to be determined. In this sub-category are shown some interacting triple systems illustrating various degrees of alignment. Many of the galaxies in chains, Category 17, show disturbance, so the present sub-category is related to that Category as well. It is also true that many apparent companions tend to be diametrically aligned across central galaxies so that the present Category is also related to Category 8, and to Categories 4 and 5.