Click

for previews of the images in this category.
Click

for the ASCII format of this category.
CATEGORY 17:
CHAINS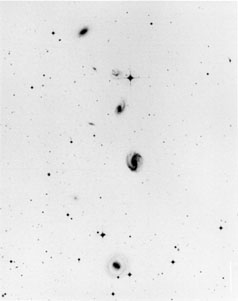 This interesting Category contains groups of four or more galaxies which stand out in brightness and closeness as a group, and which are, at the same time, noticeably aligned. The frequency of this occurrence in the full Catalogue is reflected in the large number of illustrations we present. One interesting aspect of these chains is that many contain disturbed or peculiar galaxies. Aside from the possible physical significance of this feature, it can be used to support the physical reality of the chains since it is much less likely that peculiar galaxies could be unrelated inter-lopers from the field.

The chaining tendency which we investigate here is also apparently connected with the tendency for the Interacting Triplets through Quintets (Categories 3 through 5) to be aligned and the tendency for apparent companions of larger galaxies (Category 8) to be aligned diametrically.

The scheme for presenting this Category is to give the most striking alignments first. The first three pages show well aligned chains of peculiar, disturbed galaxies. On page 17.4 the object AM 2315-423 could be classed as a disturbed spiral with diametric companions. The succeeding pages show fairly straight alignments of varying galaxy composition. On page 17.9 the chains start to have some curvature to them. From page 17.9 through 17.18 chains are illustrated that show both increasing apparent curvature and increasing thickness of the linear structure. On page 17.12 some of the galaxies which make up the object AM 1241-402 were first discussed by Sersic (1974), and have recently been investigated by Lausten and West (1980). The object AM 0218-321 (page 17.15) was also illustrated in Category 4: Interacting Quartets. On page 17.18 there are some examples of small chains that appear to be more distant. By the end of this Category, the chains which are illustrated (page 17.24) are either very loose, or have nearby apparent members which are not aligned, thus providing a transition to Category 18: Groups.