12.3.2. Distortions in the Velocity Field
In many galaxies the velocity field, as described in Figure 12.1(b), is observed to deviate from axial symmetry in such a way that the HI cannot be rotating in circular, coplanar orbits. Figure 12.7 illustrates the variety of observed velocity fields. M83 and NGC 5383 illustrate two kinds of deviation that maintain a sort of twofold symmetry in the velocity field. One of them, the kinematic warp, was briefly discussed in Section 12.2.3 and is exemplified by M83: a change in the position angle and inclination of the warp produces a characteristic S-shaped distortion. The same effect can also be discerned, although less dramatically, in NGC 5055 (see Figure 12.7). M31 is perhaps the system where the most detailed rendition of a warped disk is kinematically observable but it is by no means typical. As the inclination of the disk is high (about 77°), the line of sight can cross the disk in three different locations, including two in the upward and downward brim of the warp, yielding triple-peaked velocity profiles. A warp is a perturbation that involves the outer parts of the disk; the second kind of distortion, an "oval distortion," arises in the inner parts and results from structures that depart from the symmetry of the optical image of the outer regions of the disk, such as bars or ovals (i.e., "fat" bars). The resulting perturbation in the velocity field causes the major and minor symmetry axes in the inner parts of the galaxy not to be perpendicular, as can be seen in NGC 5383 in Figure 12.7.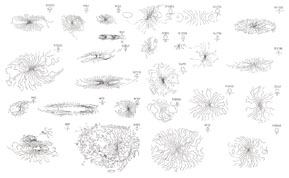 Figure 12.7. Selection of velocity fields of spiral galaxies, assembled by Bosma (1981). (Reprinted with permission from The Astronomical Journal).